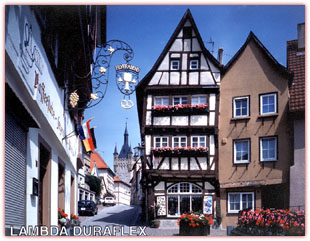 What is Lambda?
     Lambda is the name and common reference to the process and equipment featuring laser technology to produce high impact continuous-tone trade show panels and photomurals.

Why is Lambda better than photo?
     There are many reasons:

Superior quality. The computer-generated image is an original, not a second or third generation print created from a negative.
Sharper images, especially edge-to-edge, eliminating the fuzziness of image projection in the enlarging process of traditional photo.
Color manipulation. With Lambda, individual colors can be manipulated without affecting other colors in the image.
Razor-sharp text. Because Lambda uses lasers instead of film to create images.
No film record charge because the Lambda process does not use negative projection.
Better colors because Lambda maintains the integrity of subtle changes in color, saturation and contrast.
No dust problems because the Lambda process does not use projection which magnifies dust particles.